In the laboratory landscape, notetaking has evolved beyond the standard pencil and paper format. In its place, medical and academic research labs have transitioned to electronic laboratory notebooks (ELN) to record, track, and share information. With their increasing popularity and use noted across different scientific disciplines, it's clear that ELNs have made an extraordinary impact on research compared to manual notebooks. Below, let's look at how ALPACA Micro ELN can enhance your data quality!
Unleashing Your Labs True Potential with MICRO ELN
Issues of Paper-Based Notetaking
Laboratory research demands more detailed and accurate data to achieve the best results. While paper notes can be useful to quickly jot down notes in the field, manually written data is insufficient as a method of accurately recording and sharing large amounts of data. Compared to digital solutions like ELN, paper notebooks tend to be:
Vulnerable to water and chemical damage.
Hard to read and/or inaccurate.
Easily misplaced or lost.
Vulnerable to theft and unauthorized access.
Time-consuming to record or share with other researchers.
Realistically, it's difficult to properly record the amount of data needed for laboratory research with paper notebooks. For this reason, ELNs are a popular resource to support all aspects of recording data within a secure, accurate, and collaborative database.
Lab Evolution with Micro ELN
Through Micro ELN, lab professionals access advanced cloud-based software and gain the benefit of recording, tracking, storing, and sharing records from a secure database. Using this system, professionals can easily document and process important research from any device, thus saving time and energy to upload reports.
Laboratory professionals across scientific studies can expect many benefits from using Micro ELN over paper notebooks, such as:
Better Organization
Because the Micro ELN system is searchable, it eliminates the need to organize or gather reports. In fact, this software allows researchers to keep all collected project items together, giving other technicians the information they need to continue the project and track updated steps throughout the project.
Simplified Collaboration
Messy handwriting makes sharing research difficult; plus, there's no guarantee your notes will stay intact when exchanged with a project partner. As a cloud-based platform, Micro ELN avoids the risk of losing or damaging data since it allows researchers to share information and edit projects together at any time.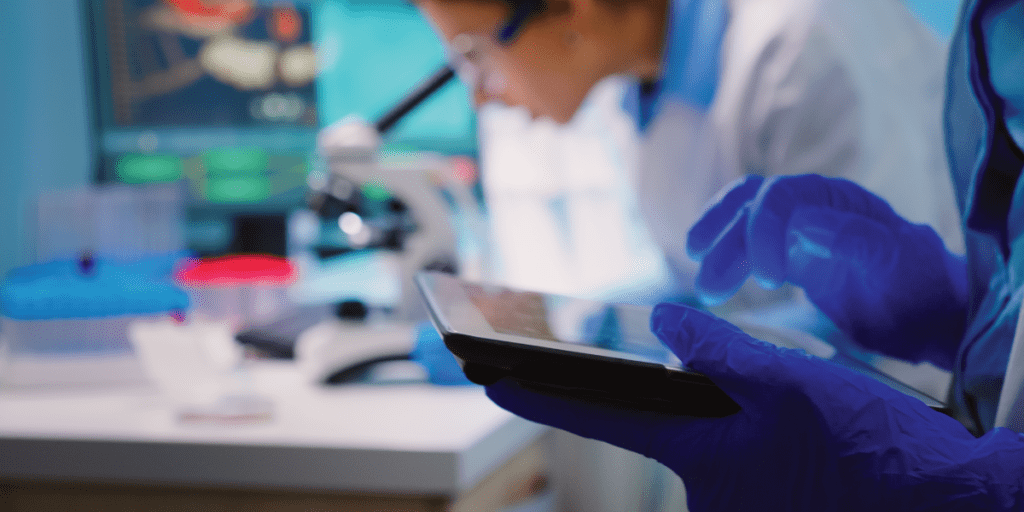 Micro ELN helps you avoid miscommunication due to messy handwriting.
Report Flexibility
Thanks to advanced ELN software, digital files allow for more flexibility of what can be put into a project report. As an example, technicians looking to review a report on a water sample may find sample images, charts comparing water quality over time, notes from collaborators, or uploaded photos of the testing process.
Data Security
Depending on the field of research, certain scientific reports may require security compliance protocols to ensure the company's privacy and protection. Unlike paper notebooks, Micro ELN software offers a high degree of data security and integrity for digital reports, which prevents unauthorized access. End user access can only be granted through a password, and activity can be restricted to protect sensitive data.
Expand Lab Capabilities with Micro ELN
Lab research requires advanced solutions to share, adapt, and store notes. To gain the best advantage in data analysis and scientific development, lab professionals need ALPACA Micro ELN. BTSOFT's Micro ELN solution offers high-quality software to store and report information along with expert guidance to find the best custom solutions to meet your needs. View our demo today to learn more.