Managing your laboratory workflow may seem overwhelming, especially at nonclinical labs where tests, data, equipment, and so on are involved in everyday procedures. This process can be simplified with the aid of a configurable interface called a Laboratory Information Management System—or LIMS. What exactly is LIMS and how can it help manage your laboratory workflow?
DISCOVER OUR COMPREHENSIVE GUIDE ON LIMS SOFTWARE IMPLEMENTATION!
LIMS: The Solution to Managing Your Laboratory Workflow
A Laboratory Information Management System (LIMS) tracks, records, and reports samples and scientific data consistently. The primary function of LIMS is to provide a precise level of tracking to help labs follow standard procedures, best practices, environmental regulations, and more. The system is a configurable interface and workflow that lets your staff add and modify chemical or biological tests without the need for additional programming. This software is the perfect solution for efficiently tracking all your lab's tasks and activities
Workflow Functionality with LIMS
LIMS enables your lab to effectively manage laboratory operations and standardization, optimize laboratory workflow, and have accurate control of the process. Staff can input data such as date, time, location, sample size, sample source, and so onto the software system. LIMS stores any related information about the test. Any laboratory data that goes through LIMS database will receive intuitive and visual feedback on the state of the sample. Your staff can track and trace the data and be alerted to any issues.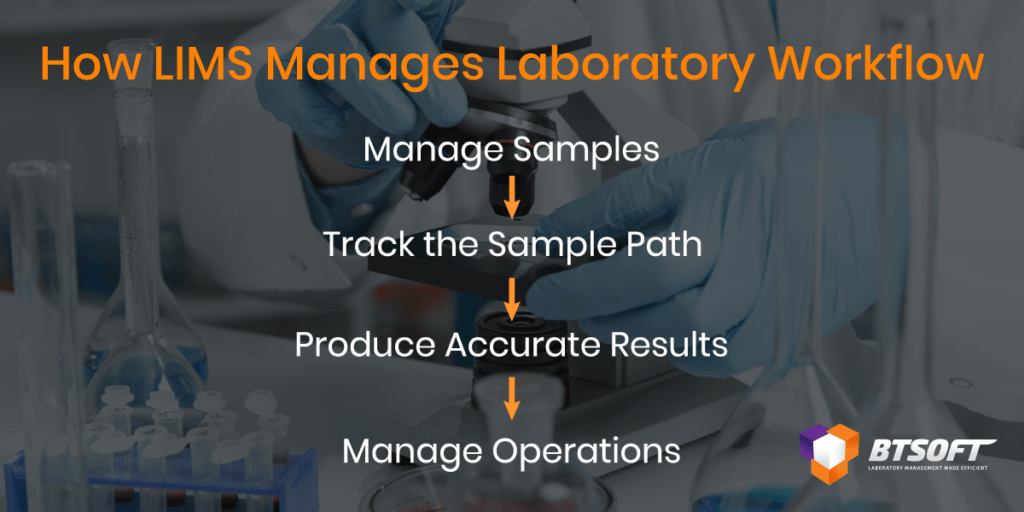 LIMS improves efficiency within the laboratory system by ensuring work is being completed in a controlled and consistent process. Some ways LIMS help manage your laboratory workflow include:
Meeting

compliance regulations

Will standardize workflows

Reduce human errors

Test samples efficiently

Simplify difficult or risky procedures

Reduce training time

Equipment management

Inventory and reagent management

Ensures processes are performed with high levels of consistency, integrity, and quality
BTLIMS Makes Managing Your Laboratory Workflow Easier
With so much information to keep track of, running a lab can be hard, but it doesn't have to be. BTLIMS makes operating your lab easier. BTLIMS will provide the greatest impact in improving the accuracy and efficiency of your laboratory workflow. If you deal with large amounts of data and samples, BTLIMS will increase your lab productivity and will simplify the process of sample management. To learn more about BTLIMS, check out our products and schedule a demo!